A photographer has created a stunning underwater floral garden photoshoot that was inspired by the hit Netflix television show Bridgerton.
Kimber Greenwood, owner and lead photographer of Water Bear Photographytells MapPixel about the process of bringing this beautiful underwater shoot to life.
Before she started Water Bear Photography, which specializes in underwater portraits, development, boudoir, and maternity photography, Greenwood had been a scuba diver and lifeguard for over 20 years.
"Strangely, the water side came long before the photography side," says Greenwood, who is based in Gainesville, Florida.
"I fell in love with technical cave diving and freediving, so it was so natural that soon after I got my first camera, I wanted to take it underwater!"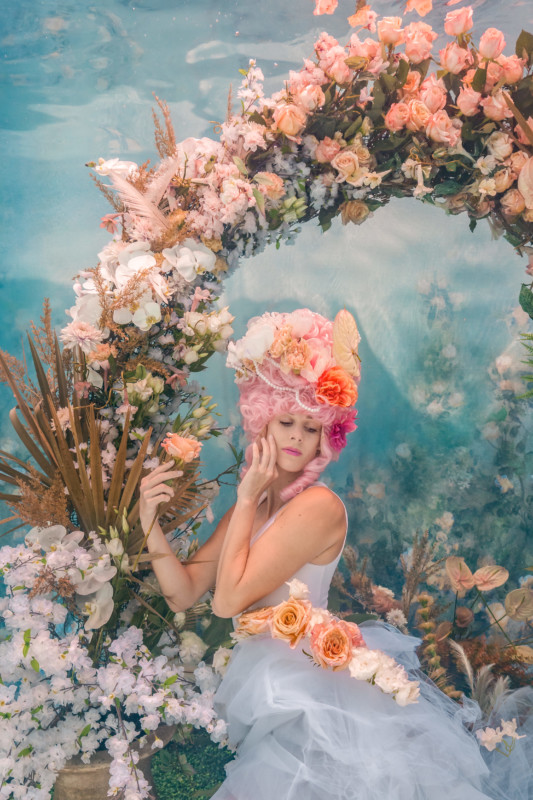 "Water Bear Photography specializes in creating one-of-a-kind shoots for brands, businesses, and individuals who want something creative and that no one else will have."
For this underwater shoot, Greenwood found inspiration in Bridgerton and the Water Lilies paintings series by French Impressionist Claude Monet. Greenwood worked closely with her lead florist and floral designer, Ashley Rodriguez of Garden & Grace Floralsto create the underwater garden in the pictures.
"Ashley and I wanted a set that featured the blues, aquas, and greens reminiscent of underwater scenery and Monet's palettes along with the warmer peaches and ivories on our models and the main arch," she explains.
"This helps provide separation from the background and gives an illusion of more space."
Greenwood and Rodriguez constructed the floral arch in the photos using coated chicken wire fencing. The pair then molded the wire between two decorative pots packed with dive weights for stability and threaded each flower individually into the arch.
The team had several trained freedivers on hand to sink the floral arch into the water for the shoot while safety swimmers were also kept on standby.
Greenwood says there are several challenges when it comes to undertaking an underwater shoot like this one, particularly when it comes to the clarity of the water in the images.
Every single stem of the 1,000 flowers used for the set had to be rinsed before it entered the pool so that the clarity of the water could be maintained. It took a team of safety coordinators, florists, models, and videographers to bring this shoot to life.
"There were a lot of challenges to this shoot, with the largest being the water clarity," Greenwood explains. "Anytime you add that many fresh flowers, over 1,000, into a pool, along with groups of people, the water will become hazy."
"Fortunately, we had a pool expert on standby who made a special trip to balance the pool and we rinsed every item before it entered the water."
"Another potential issue could be safety. We had a large archway that we wanted models to interact with, but had to make sure they wouldn't become entangled or have it fall on them.
"The set was tested by safety divers first before any model entered the water."
"I loved the incredible team we put together!" Greenwood adds. "Everyone showed up, worked hard, and was incredible to create with. This was by far one of the best sets I've ever had the pleasure of working on"
More of Water Bear Photography's work can be seen on Instagram and their website.
Garden & Grace Florals' work can be found on Instagram and their website.
---
Image credits: All photos by Water Bear Photography